Welcome to The Digital Scrapbook Teacher -
Home for all your digital scrapbooking needs!
Sign up for our newsletter to receive great freebies, Photoshop Elements tips, coupons, and information about special events.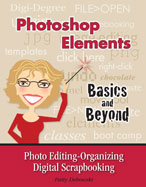 Buy our Book & Videos and learn Photoshop Elements the fast & easy way before supplies run out. Read the great reviews.
---
---
Congratulations! You've finally found the book you can't digi-scrap without! Introducing the most comprehensive digital scrapbooking book for Photoshop Elements ever written!
Photoshop Elements Basics & Beyond by Patty Debowski answers all of your digi-scrapping questions and more! This is the ultimate, color illustrated, reference guide that will never leave your side when you digi-scrap. Whether you are new to digital scrapbooking or you are a pro, Photoshop Elements Basics & Beyond is the only tool you will need.
Our first book was seen in Scrapbook Dimensions, Scrapbooks Etc., Creating Keepsakes, Simple Scrapbooks, Digital Scrapbooking, Paper Crafts, Memory Makers, Somerset Memories, & Somerset Studio Magazines.
Book Specials
Get a discount by purchasing your book along with other items. Check out our book specials here.
Organizer Back-Up Catalog
Want to get a head start on organizing all those freebies you've been downloading? Want to find an element instantly? Don't want to organize the 1000+ items on the book DVD? Save hours and hours of time by purchasing our Organizer Back-Up Catalog that works with Photoshop Elements Organizer. All 3,200+ digital scrapbooking elements on the book DVD are tagged by color, type of element, designer, and theme.
Check out our other Digi Products
We've got lots to choose from and you won't find a better deal on digi products anywhere!
Photo Editing Training Videos
Digital Scrapbooking Training Videos
Photo Masks
12 x 12 Scrapbook Page Templates
8.5 x 11 Scrapbook Page Templates
24 x 12 Scrapbook Page Templates
Edge Templates & Text Paths
Alpha Templates
Card Templates
Clock Templates
Brush Sets
Word Templates
Cheryl Seslar Clipart
Alice Smith Clipart
Check out our What's New page for Photoshop Elements updates, Vista Problems, and more!
Join Patty Debowski (AKA The Digital Scrapbook Teacher) at a digital scrapbooking class or demonstration near you.
© 2007-2011 Patty Debowski. All rights reserved.
Photoshop & Photoshop Elements are registered trademarks of Adobe Systems Inc. Windows is a registered trademark of Microsoft Corp. Mac is a registered trademark of Apple Computer, Inc.