Industry Comments about our first book:
Patty's goal in writing this book was to make a complete reference guide with step-by-step detailed instructions in plain English. She has achieved her goal. This book is a great how to guide written for digital scrapbooking and card making using Photoshop Elements. My review of the index and table of contents indicates a well orchestrated approach to becoming proficient with Photoshop Elements. She has taken great care to give detailed instructions and graphic depictions to help you master Photoshop Elements. An added bonus is the Companion DVD. I know Patty and can give my highest recommendation to read her book. She is truly the Digital Scrapbook Teacher! Jeanne Wines-Reed -Co-Author-Digital Scrapbooking for Dummies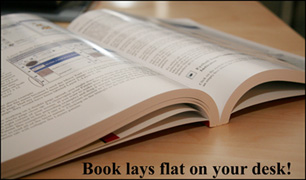 "It's like the Physician's Desk Reference for digi-scrapping." Jen Strange book review
Every digital scrapbooker needs to have Patty's book in their hands. This "bible" of digital scrapbooking with Photoshop Elements covers digital scrapbooking from start to finish. I love how she breaks everything down in such easy to understand terms. With everything included, from how to download your photos from your camera to using templates and even creating your own patterned paper, this book is an essential read! Ashley Smith Owner, Polka Dot Potato
…you HAVE to get this book. Everything is written in plain English. No technical jargon and as you can see from my photos above, you aren't buying a book of layouts. Miss Mint, Owner PeppermintCreative.com P.S. Thanks for the great photos Miss Mint!
The book itself is a gem! As I look through it, I'm impressed with the depth of instruction it contains. You have thought of everything. There are even answers to problems that users of Photoshop Elements come across which are difficult or impossible to find anywhere else. Everything is written in easy-to-understand English by someone who scrapbooks and understands the process. Cindy Wyckoff, Editor & Chief Scrapbook Dimensions Magazine
This must-have idea book is a Photoshop Elements instruction manual geared toward the digi-scrapper with step-by-step detailed instructions written in Plain English that's easy to follow and understand….Patty explains things in such a warm and often humorous manner, that you'll quickly consider her a friend. Jana Holstein, Editor Somerset Memories Magazine April/May 2008.
Customer's emails for our first book:
I just ordered this book today and I'm so excited to get it in. I have bought all kinds of PSE books and digital magazines etc and still have no idea what I'm doing. I'm really excited that you took the time to write this for us!
I can't believe my book came yesterday--that was the fastest I ever got anything I ordered online! I am so excited to have found your book and website—I have been trying to get into digital scrapbooking for a year now, have PE5, doing pretty well with it but just couldn't figure out where to put and organize any digital papers, etc. I KNOW I am on the right track with your book now!
I love your book and use it all the time as my Bible when I'm working in Photoshop Elements. The instructions are perfect and I can follow along and do the stuff. It is nice to have a manual that tells it right and puts in all the steps. Thank you!
Patty I must tell you again that my review didn't even do justice to your book. I took it with me for the drive to Vegas over the weekend and with every sentence I learn something - even things about procedures I thought I already knew! You are so organized and clear in your directions. You are a great teacher! My sister bought your book too and she calls me and says "Hey did you see the page about...?" We are constantly saying WOW I didn't know you could do that!?!!!
Patty, I am convinced that you and I are twins who were separated at birth. You sound so much like me; even I recognize your "voice!" Your sense of humor is exactly the same as mine. If I knew digi-scrapping and PSE5, I would swear I had written this book (at least the first 52 pages). (I am a published writer--used to write a slice-of-life/humor column for a mid-size newspaper.) Last night as I had The Tome propped up on my (generous) stomach (which may possibly have a permanent dent!), I kept interrupting my husband as he was reading his novel to read stuff out loud from your book. We were both ROTBed, LOL! This evening I have loaded all the goodies from the disk that came with the book--including the tags....ON MY FIRST TRY! ;) Oh goody...DH just left me alone for a little while longer, so I'm going to load the Organizer Catalog.
Reviews for our first book
I just purchased your book and organizer. I'm so excited because your book is so easy to understand.
---
I just received your book and LOVE it!!! It's my 7th book on Elements but the only one I have geared toward digi-scrapping and things are finally starting to make sense to me.
---
This is everything I expected and more. I love it that you explained to me why I should have a catalog on PSE for my supplies. I asked that specific question on the forum, and no one replied.
---
I wish I had your book when I was learning... I'm teaching Photoshop Elements and digital scrapbooking with PSE , and I wouldn't have needed most of the online classes and the other books I bought if I'd had your book first.
---
I love the book, templates, organizer, everything!! I have bags under my eyes and my back hurts from curling up on my couch scrapbooking with your tools!!! I am in love!
---
© 2007 Patty Debowski. All rights reserved.
Photoshop & Photoshop Elements are registered trademarks of Adobe Systems Inc. Windows is a registered trademark of Microsoft Corp. Mac is a registered trademark of Apple Computer, Inc.